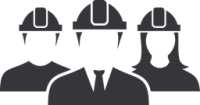 For our Utility Partners
Project Management – When customers do not have available resources or skillsets for analytical projects, OBI can augment the project with hands-on or executive level management.
Data Migration and Integration Strategies – There are several viable methods for extracting and interfacing to other systems.  We can provide the strengths and weaknesses of each approach along with the proper implementation strategy for the selected alternative.
Training – Having authored technology based training material, we are equipped to offer guidance in training all levels of management as well as providing instructional support.
Go Live Support – Often temporary skilled resources are required for new product launches.  We can augment this short-term resource requirement with our staff.
Needs Assessment – All too often applications become obsolete due to user requirements changing or technology migration costs becoming excessive.  OBI can perform assessments to determine what the shortfalls are as well as "get well" plans to keep the applications current.  We can also provide this service for new applications as well.
ROI Assessment – With many CAPEX projects, a solid Return on Investment is required in order to get the project's approval.  OBI can provide both tangible and intangible benefits based on internal analysis as well as external actual experiences.
Best Practices – OBI has worked with 80% of the top North American utilities as well as other organizations outside of the utility industry related to "Best Practices."  Several of these initiatives have received National Recognition Awards.  We can leverage this experience to assemble strategies specific to our customers' challenges.

For our Development Partners
Business Plan – This service includes setting goals with strategies to attain the objectives, market sizing, competitive analysis, construction efforts, revenue analysis, and future product demands.
Product Management –   Our veterans can offer leading or supporting roles in the planning, forecasting, production, and marketing strategy throughout the product's lifecycle.
Sales Material and Training – Having supported sales organizations from $2 Million upwards to a $500 Million, we can provide staffing expertise, sales training as well as building and implementing product and/or services strategies.